Bright, fresh and clean restrooms.
Plenty of washing and drying equipment.
Computerized access to all gangways and boater facilities.
Plenty of free parking spaces available throughout the marina.
Unlimited, free WiFi available to help you stay connected.
Home of Wilmington's only Yacht Club.
Spacious private showers for guests and liveaboards.
Individual power centers.
Free fresh water available at each slip.
Help yourself to our dock side carts.
On site pump out facility.
Stay at our first-class marina locations.
Shelter items and organize your dock.
Rates for common slip sites are as follows. For more rates and liveaboard fees, please refer to our
rate sheet
.
| Size | Fee | $/Foot | Deposit |
| --- | --- | --- | --- |
| 30' | $354.00 | $11.80 | $404.00 |
| 40' | $52440 | $13.11 | $574.40 |
| 50' | $702.00 | $14.04 | $752.00 |
| 60' | $874.80 | $14.58 | $924.80 |
| 70' | $1,058.40 | $15.12 | $1,108.40 |
Slip fees are based on boat length or slip length, whichever is greater. The overall length of any vessel is defined as the distance from the most forward of the vessel to the further position aft, this includes all items such as pulpits, anchors/anchor rollers, davits, swimsteps, outboards, bowsprits etc. Neither vessel nor any part of the vessel may project into the fairway more than 3 feet. Slips are assigned to accommodate vessels with no overhang except as permitted by the marina. Definitive slip fee amount will be determined upon arrival and inspection by marina personnel.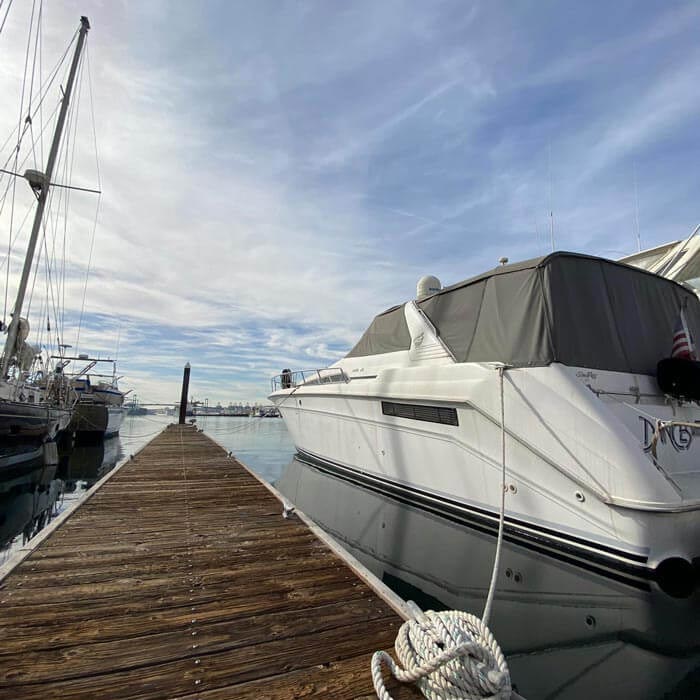 A deposit is required prior to move in.
First month's fees are due for full month, second month's fees will be prorated.
Slip fees are due on the first of every month.
There is a key deposit of $25.00 for 1st key. Additional keys can be purchased.
Parking permits are available with a $15 deposit per permit.
A written notice to vacate must be provided 30-days prior to the date of vacating.
Subletting of slips is not permissible.
A copy of the current registration/documentation or a copy of the bill of sale in the name of the person applying for the slip.
Insurance policy naming Marina as additional insured and showing $300,000 liability coverage.
A current color photograph of vessel.
A credit report will be required and run on the applicant
Vessels older than 20 years must provide a copy of survey conducted within the last 12 months.
Liveaboard positions must receive prior approval from the marina, there will be an additional monthly fee charged.
Liveaboard vessel must be at least 30′ in length and must have an approved operational head (MSD) w/ holding tank.
Frequently Asked Questions